David Ortiz Autographed Baseball Hall of Fame Plaque Postcard Beckett COA
You are purchasing a David Ortiz Autographed Baseball Hall of Fame Plaque Postcard Beckett COA.
20 in stock
Description
Introducing our Baseball Hall of Famer David "Big Papi" Ortiz Autographed Post Cards – a true collector's dream!
Limited Quantity Available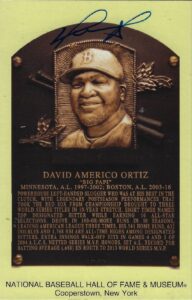 Each autographed postcard comes with a Beckett certificate of authenticity, ensuring that you're getting the real deal – a genuine signature from one of the most iconic figures in baseball history.
💥 Why Choose Big Papi?
💥David "Big Papi" Ortiz is not just a baseball legend; he's a cultural icon! With a career spanning two decades, Ortiz left an indelible mark on the sport. From clutch home runs to his larger-than-life personality, he's beloved by fans all over the world. And now, you can bring a piece of his legacy into your own collection.
Key Features:
📜 Autographed Post Card: Each postcard features an authentic autograph from Big Papi himself. It's like having a piece of baseball history right in your hands!
🔒 Certificate of Authenticity: Rest easy knowing that your collectible is certified by Beckett, a trusted name in sports memorabilia authentication.
💎 Perfect for Display: Whether you're framing it, putting it in a collector's binder, or showing it off in your man cave, these postcards will make a stunning addition to your collection.
🎁 Ideal Gift: Know a baseball fanatic? This autographed postcard would make the ultimate gift that they'll cherish for a lifetime.
🏆 Limited Availability: We have only a limited quantity of these autographed postcards in stock, so act fast to secure yours!
🚀 Order Yours Today! 🚀Don't miss your chance to own a piece of baseball history. Act now before they're gone! Hurry, because once these are gone, they're gone forever!
⚾ Get in on the action and celebrate the legendary career of David "Big Papi" Ortiz today! ⚾